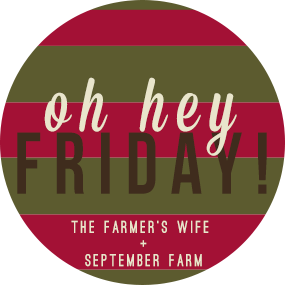 It's Friday and it's fabulous! I took the day today to prepare for a friend's Christmas party. We have a pretty fun and holiday filled weekend ahead of us. We are just all about the holiday spirit these days.
[one]
Tonight, my friend's husband is dressing in a Santa suit and hands out toys to all the kids while parents enjoy good
food, little wine and an ornament swap. I picked up an adorable Rudolph toy for Jack. He actually wouldn't put it down when we were in Target. Mom confession: He's been playing with it for 2 weeks and I just wrapped it this morning. I'm looking forward to a nice out with some friends and our babes.
[two]
I'll be making this deliciousness tonight for the party. I can't wait to sink my teeth into some brie. I haven't had any since before I was pregnant.
[three]
Last week we took Jack to see Santa at a park and it was freezing. He was uncomfortable and didn't want to stay in the carriage with his blankets. It just wasn't very fun for him butt his mom and dad had a fun time. It was all to sponsor our local food pantry. Bring some food items and get free pictures with Santa. There was popcorn and hot coco while we waited for pictures with Santa. After Santa at park we headed home to see our fire department Christmas parade.
[four]
Saturday we had plans on going to a light show at a local zoo but it's going to be so cold and after last Sunday I just feel bad that Jack will not have a good time. Instead we will be going to a Santa village with indoor cottages to get a break from the cold. After that visit we are super excited for a drive through light show at ball field. I've seen videos and it looks like so much fun. When I was a little girl living in NYC we would drive around at night during December to see all the lights. Brian and I still do and it's become a tradition with our family.
[five]
I think I may need a weekend to recover from my weekend but I think Sunday will be spent very quite. We'll start off at church and most likely do some wrapping. (Most of my shopping is complete) I think that some Christmas movies and baking may take place too!