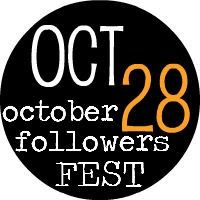 I always love joining linking up. I love finding new blogger friends with stories to tell and inspiration to share. The 4 amazing hostesses of this weekend's HUGE follow fest are hoping the participants share something interesting about Halloween, Fall or an introduction. So here goes:
I'm Kristina, a 30 something NY/NJ girl. I grew up in NYC, moved to the burbs in my teens and then ventured to the awesomely tacky state of NJ and bought a house with my now fiance. I work as a program director for a non profit in NY that specifically works with children and adults with Autism. Bride to be getting married 6 months from tomorrow. I come from a fantastic family. We put the
"FUN"
in Dys
FUN
ctional!!! I've got a great guy by my side and can't wait to be his Mrs. Our anniversary is today. Animal lover, shopoholic, Essie nail polish fanatic, softball player, NY sports lover, music and live show addict. I enjoy a good red wine and a nice dark beer. Always up for trying new food, especially sushi. Nickname is Rottweiller. Although this was origianally a wedding prep blog I find myself just rambling on about my everyday life, weight loss struggles, stress, newest obsessions and fun. I have met some amazing blogger friends and I hope to get to know a bunch more through this link up.
Welcome and thanks for stopping by.
Happy Halloween weekend!
xoxo
K