Oh Friday, it's nice to see you again. Take your time just like I hope this weekend does too!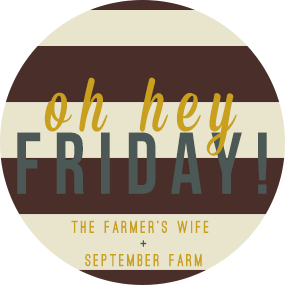 How cute is this photo?!?!? Jack did a fall mini session 2 weeks ago. He was up the night before with a raging fever so I was surprised he even smiled. One dose of Tylenol and he was fine, thankfully. I think its teeth but you never know.
Jack's Baptism and party are Sunday. I've been running around all week. Today and tomorrow we will be preparing and cooking. I'm looking forward to seeing Jack with all our families on Sunday. The strange thing about this party is I'm really not that into it. I've always loved partying and decorating for parties but things are definitely different since Jack came along. I'be been so low key about this party. It will be a very easy going afternoon. I'll save all my love of party planning for his 1st birthday, which is fast approaching!
I had Brian return our broken Keurig to Bed Bath and Beyond. He came home with the Keurig 2.0. This thing is pretty awesome. He is super excited because there are about 1,000 settings and I'm just hoping to get a good cup of coffee out of it. I'm bummed because the My K Cup I have doesn't fit into it. I'm hoping to find something similar for this one.
Monday marks the 6th anniversary of Brian and my first date. In so many ways it feels like only yesterday and in others I can't believe it's been 6 years, a house, a wedding and baby later! This was one of our first photos together. It was taken on Halloween 2008. I met all of Brian's friends for the first time this night. I also dropped the beer I'm holding all over the floor. His friend had an electrical outlet in the floor so I shorted out the electricity that night. Great first impression. I always get clumsy when I get nervous.
So can we talk American Horror Story!?!?!?! WHAT THE FAAAA???? I have been a loyal viewer since the first season but that clown!!! What is up with that clown! I swear I'm not going to be able to watch and not have nightmares! Holy hell I was scared to death!