Happy Friday Friends. With spring upon us and the weekend around the corner I can't help but be excited about it.
- It's March!!! Finally! Bring on the green grass, flowers, days at the park, St. Paddy's Day and Easter! I'm so ready for Spring. Nothing makes me happier than that first day of not having to wear a winter coat. This year we went right from the coat to the tank tops this week!
- Jack has shown a lot of interest in baby dolls lately. He never liked stuffed animals or showed interest in them. Last week he went shopping with my mom and begged he for a baby in a carriage. The only reason she didn't get it was because it was $40. The other day while shopping with me I picked one up for him. I have nothing against boys playing with dolls and actually thinks its great to teach them how to care for something else. (We have been asking daddy for a new dog too. That may also help.) Plus, its a nice departure from the constant trains!
- Fuller House- Oh my goodness! Brings back so many memories. I just wish that Netflix would have run some of the original episodes. Growing up I loved Full House on Friday nights and remember the first episode so vividly. I have to admit that some of the weird jokes make me cringe. It's kind of strange. Am I the only one? I'm really wishing that it would get better. I'm trying to avoid binge watching like I usually do.
- The Walking Dead- Yep, my husband and I are hooked. He started watching it on Netflix a few weeks ago and we are hooked. We were up till 3am on Saturday watching. It's like we can't stop! How did I wait this long!?!?
- The best news of all is a new baby, our family welcomed my new cousin Noah into the world during the early hours of the morning. He's so new we don't even have a picture yet!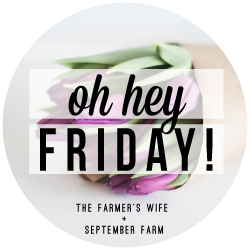 What are you're favorites this week?
Hope you had a great week and have an even better weekend.